Eighth Day Design (EDD) is seeking to hire a full-time, experienced IWMS Specialist to join our Digital Facilities group. The ideal candidate will be a team leader with excellent organization and communication skills and utmost regard for a quality work product. This position will provide full time, on-site services to one of our large government clients in the DC Metropolitan area. Travel is not required for this position.
Responsibilities:
Assess client needs and communicate those needs to EDD management as well as client
Provide IWMS production assistance at client site to help maintain consistent workflows and timely delivery of requested reports and metrics.
Provide Space Occupancy, Allocation, and Inventory updates, produce Chargeback and executive level reports using the IWMS software reporting tool.
Coordinate activities of an IWMS team when necessary
Work to improve the client's IWMS information quality, accuracy and completeness using training and quality assessment procedures and audits
Assist client in developing additional functionality and processes for their current IWMS software
Provide training to client on IWMS software
Provide software demonstrations to client staff as required
Create documentation on all tasks performed
Provide Helpdesk support to clients including troubleshooting, recommendations and follow-ups
Maintain knowledge of the IWMS software at an expert level
Perform other job-related tasks and support as requested
Qualifications:
3 or more years' professional experience related to the Facility Management industry
Understanding of Space Management, Space Planning and use of BOMA and IFMA area calculation standards
Minimum of 1 – 3 years' experience with AutoCAD
Technical expertise in report development, software installation and troubleshooting highly desirable
Working knowledge of FM:Systems, FMS:Workplace software or similar IWMS software such as Archibus, Tririga or iOffice
Organized, self-motivated goal oriented professional with team leadership skills
Ability to communicate professionally and effectively both verbally and through written communications
Knowledge of relational database functionality, SQL or Access preferred but not required
Degree in Facilities Management, Interior Design, Architectural Technology or equivalent experience preferred
Compensation is commensurate with qualifications and experience and includes a benefits package.
Please email your resume and cover letter describing your skills/experience compliance with the positions qualifications to Michael Meiran at [email protected] . Qualifying candidates will be considered for a follow-up interview.
About EDD:
Since 1989, Eighth Day Design (EDD) has been delivering interior architecture and design solutions, paired with service and reliability, to some of the most recognizable organizations in the US.  With a focus on large and midsize corporate and government clients, EDD provides design ingenuity, flexibility and exceptional management of the design process. 
In addition, EDD is an outstanding resource for Integrated Workplace Management Systems (IWMS) support and consulting.  EDD implements multiple integrated workplace management systems, including FMS:Workplace, Archibus, Tririga and iOffice for Space, Move, Asset, Lease and Project Management to increase efficiency and reduce costs for our clients.  EDD's CAFM and IWMS solutions are provided with implementation services, training, configuration and assistance by our professional staff, both on-site and in-house. Check out our website at https://www.eighthday.com
Suggested Content For You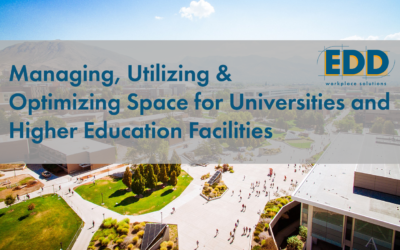 Managing, maintaining, analyzing, and tracking space for the grand scale of universities and higher education facilities is no easy feat. However,...